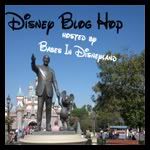 This has been such an amazing summer of Disney adventures and also a great summer of Disney blogging!  I've linked up with some amazing Disney blogs that are doing some great things for the Disney blogging community.  One such blog is Babes in Disneyland by Lisa Robertson of The Three Disneyland Moms fame.  Today her weekly blog hop is focusing on sharing your favorite Disney memories from the summer, and I'm pleased to hop along and share my own summer memories.  Thanks Lisa!
Any summer that includes not one, but two, Disney vacations is already a step above any other summer! Â From one coast to the other, I had the amazing opportunity to visit both Disney World and Disneyland… with a bonus stop at the D23 Expo. Â These kind of moments are the ones I truly treasure, as I am so far from the Magic, it feels like I miss out on a lot of special Disney treats. Â But, seeing both parks during their peak seasons – when they are full of every event, every character, and every variety of entertainment – was truly a dream come true. Â Yes, it's more crowded and much more hot, but it's still something that I love. Â My fellow Disney fan(atics) will understand that aching feeling when you hear about a special event, or a special parade, or a special *insert everything you've missed here*, that you know you won't have the opportunity to attend. Â But, for me, this was my summer to celebrate all of the anniversary-ish, soundsational, Expo-riffic Disney magic that I could soak in!
The Highlights
Checking one off my bucket list in the form of going to Disney World with my friends and their girls was phenomenal. Â I still hope that one day I would be able to take my own children to the parks, but until that day comes, this was a big goal for me. Â I just wanted to experience Disney through the eyes of a child and soak in all of the joy and excitement that they were feeling with each new experience. Â Thanks Megan for letting me bask in the rays of your precious girls as they fell in love with the Magic for the first time.
Star Wars Weekends at Disney Hollywood Studios are not something I would have ever thought I would be first in line for, but as it turned out, when this crept into the top of our travel considerations for Disney World, I started to get excited. Â When the moment finally arrived, it didn't disappoint, and I was left with a new found love and appreciation for all things Star Wars… like I needed another obsession! Â Plus, I got to experience the re-imagineered Star Tours in it's inaugural year at WDW and at Disneyland!
I had been craving some time at Epcot for quite some time now (probably since the last time I was there!), so getting to spend one full day just strolling through the countries in World Showcase and take away a special memory from each was quite a treat.

We took a relaxing boat ride through one of my favorite WDW rides… Gran Fiesta Tour with The Three Caballeros in Mexico.
We spent a quiet breakfast watching the world pass us by while eating delicious pastries in Norway.
I bought one of my most memorable, if not utterly frivolous, souvenirs in China – a tiny golden Chinese dress for my little doggie.
I finally got a taste of what everyone was talking about at the Karamell Küche in Germany.
I watched gorgeous Italian men serve drinks while imbibing in an amazing Peach Bellini in Italy.
We took in all of hustle and bustle of Mitsukoshi in Japan.
We wandered the intricate streets of Morocco looking for the perfect souvenir for someone back home.
I breathed in the Parisian air in France while dreaming of days spent exploring the little treasures of the real thing.
I was probably the most excited for the United Kingdom, and it held up its end of the deal, unfolding its perfect British charm at the Rose and Crown Pub for lunch, as well as the little shops filled with special treasures and gorgeous gardens in the courtyards.

I don't even know where to begin in sharing how good it felt to be a part of Disneyland's Soundsational Summer… it was Disney Magic at its finest. Â I touched on lots of special things in my 2-part trip report, but the joy in my heart, the Magic that permeated my soul and lingered there like a soft summer breeze, is hard to actually put into words.

Mickey's Soundsational Parade was phenomenal… it took me back to a nostalgic place where Disney characters were real and the possibility of finding a prince and becoming a princess was alive and well in my world. Â It was such a touching moment for me that I cried during nearly the entire parade! Â Shocking, I know…
I got to ride the Little Mermaid: Ariel's Undersea Adventure attraction! Â I was so excited for this opportunity and I must say, I approve of this one.
There were countless other small moments that touched my heart during this trip… riding Toy Story Mania again, resuming our chase for the perfect Vinylmation trade, sipping Mint Juleps while watching the Royal Street Bachelors perform, and countless others, I know.

While I did have my fair share of complaints about this year's D23 Expo, I still wouldn't have traded this fan experience for anything. Â Seeing my favorite princesses perform or watching Dick Van Dyke sing some of my favorite songs from the Disney Cannon, are experiences I couldn't have had anywhere else on earth, I am so blessed to have had them.
Well, there you have it, the Disney version of "What I did during my summer vacation." Â Not too shabby if you ask me… I'm sure all the other kids would have been so jealous.
© 2011, Rays of Disneyland. All rights reserved.